Debit cards, also known as ATM cards in India, are issued by all banks to their customers. We can use these cards for withdrawing money and making payments online and offline.
As soon as you receive your card from the bank. You can start making offline payments. But that's not the case with online or e-commerce payments.
Before you start using your card online. You need to activate online transactions. Today we are going to learn how to activate the SBI debit card for online transactions.
We will use the bank's online banking services. So before you start the process, make sure you have access to your online banking account.
If you have not yet activated online banking for your SBI account. You can do this by using the "New User" option on the bank's official website.
What Kind of Transactions Can I Make using the Debit Card?
Let us have a look at the different types of transactions that can be done using Indian debit cards.
ATM cash withdrawals.
Domestic online transactions.
Steps to Activate SBI Debit Card for Online Transactions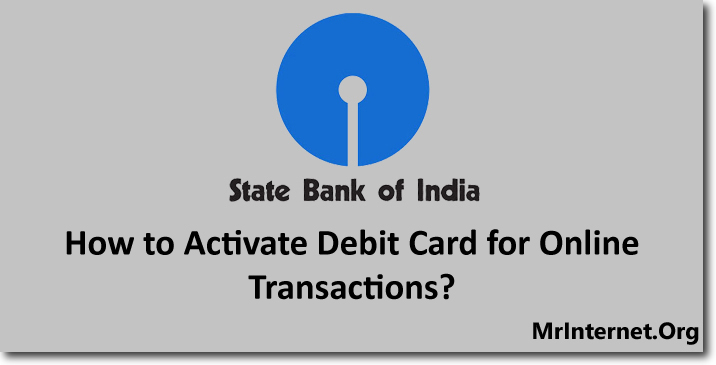 Time needed: 5 minutes
Follow the steps explained below to activate your State Bank of India debit card for online or e-commerce transactions.
Visit the Official Website of the State Bank of India.

Here we are making use of the internet banking services of the bank. So the first thing you have to do is visit the official website of SBI.

Login to your Internet Banking Account.

Enter your username, login password, and login into your SBI internet banking account.

Click on e-Services.

Once you have logged in to your account select "e-Services" by clicking on it.

Select ATM Card Services.

Here you want to change the settings of the debit card which is also known as an ATM Card. So now you have to select "ATM Card Services" by clicking on it.

Select ATM Card Limit/Channel/Usage Change.

On the ATM card services page, you have to select "ATM Card Limit/Channel/Usage Change".

Choose your Bank Account Number or Nickname.

Now you have to choose the account number or the nickname to which your debit card is linked.

Select the Debit Card which You want to Activate for Online Transactions.

Now all the debit cards linked to your account will be listed. You have to select the card which you want to activate for online transactions.

Select Change Channel Type from the Drop-down menu.

After selecting the debit card number you have to select "Change Channel Type" from the drop-down menu. Once selected click on the "Submit" button.

Choose CNP for e-Commerce or Online Transactions.

You will get a new drop-down menu again. Now you have to select "CNP" from the drop-down.

Select Enable and Click on the Submit button.

This is the last step wherein you have to select "Enable" option and click on the submit button to apply the new settings. Doing this you will enable the e-Commerce or Online transactions for your SBI debit card.
If you wish you can also set and change limits for different channels of your debit card. (POS, Online, ATM) There are few more options in the ATM card services menu of SBI Online. And they are,
If you need more help then you can call the customer care of SBI on 1800 425 3800.