If you use State Bank of India internet banking services. Then you will not be able to take full advantage of it until you have "Full Transaction Rights". This article explains how to upgrade the access level in SBI Online.
There are different levels of access that you can set for your internet banking account. And whenever you want, you can downgrade it as well. All changes to the access level can be made online. It is not necessary to visit the bank branch.
Which are the different access levels in SBI Online?
View Only: This level of access allows the customer to view only the account balance, recent transactions, account statement, etc.
Limited Transaction Rights: If this level is set, you can perform the limited level of transactions. You can transfer funds between your own SBI accounts and not to other bank accounts.
Full Transaction Rights: This level of access allows you to modify your profile, add beneficiary accounts, delete the beneficiary account, transfer funds to other bank accounts, schedule transactions, etc. You will have access to all the functionalities of SBI Online if this level of access is used.
Steps to Upgrade the Access Level in SBI Online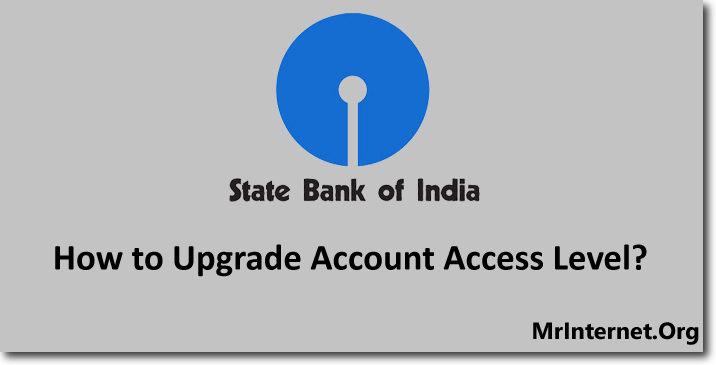 Time needed: 5 minutes
If you want to change the access level of your SBI online account. Then you can upgrade or downgrade it online using the internet banking portal.
Visit the official website of SBI Online.

The first thing you have to do is open your internet browser and visit the official website of the State Bank of India.

Login to your account.

Enter your username, login password, and login into your account.

Click on Request & Enquiries.

Once you have logged in to your account click on "Request & Enquiries".

Click on Upgrade/Downgrade Access Level.

This is the option or the feature of SBI online that will help us alter the access level. You have to select it by clicking on it.

Select the Upgrade Access Level tab.

You will get two tabs on your screen. The first one is "Upgrade Access Level" and the second one is "Downgrade Access Level". You have to select the first one. (upgrade)

Select your Bank Account Number whose Access Level you want to Upgrade.

All the bank accounts that you have with the State Bank of India will be listed for you. Now you have to select the account number whose access level you want to alter or upgrade.

Select the desired Access Level and Click on Submit.

After selecting your bank account, now you will be asked to select your new desired access level. Choose it from the drop-down menu. And at last click on the "Submit" button.
The changes you make to your access level will be applied almost instantly. If you need more help then you can call the customer care of SBI on 1800 425 3800.