A cheque or check is still one of the main payment method in India and worldwide. But sometimes circumstances arise where we will have to cancel or stop the payment of an issued cheque.
Is it possible?
Yes, you can request your bank to stop the payment of the cheque that you have issued.
But How Can I Request the Bank to Stop the Cheque?
You can request your bank by sending an SMS, using mobile banking, using internet banking, and personally visiting the branch of the bank.
What Details Do I need to provide to the Bank?
Basic details about the cheque like the date when you issued it, the cheque number, the payee, and the amount mentioned on the cheque.
What is the Condition to Stop the Cheque Payment?
You should have a proper reason to stop the cheque and the cheque's payment should not be cleared yet. In case the cheque has been already cleared and you see a deduction in your account balance. Then you can not stop the payment and get back the money.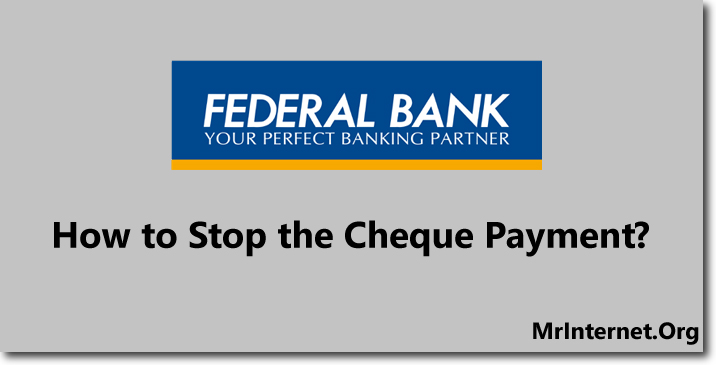 Steps to Stop Federal Bank Cheque Payment Online
Time needed: 5 minutes
By following the steps explained below you will be able to request Federal Bank to stop the cheque payment using internet banking services. But before you proceed ensure you have registered for the use of internet banking services.
Visit the Official Website of Federal Bank.

The first and foremost thing is to visit the official website of Federal Bank. This is important because you can access your bank account online only using your bank's official website.

Click on Login and Select Net Banking Option.

Once you open the official website of Federal Bank, you have to click on the Login button. And choose the Net Banking (Internet Banking) option. There are a lot of options there but for time being ignore those.

Enter your Account Details and Login into your Account Online.

This is the step where you will have to authenticate yourself by entering your User ID, Password, and Mobile Number. Please make sure you are on the official website of the bank. And don't share your details with anyone.

Now Look for Cheque Book Related Services.

After you login into your Federal Bank internet banking account. You have to look for the cheque book-related services.

Select Cheque Payment Stop Service.

You have to choose the Stop Payment option under the cheque book services.

Enter the Cheque Details Whose Payment you Wish to Stop.

Now you will have to enter the details of the cheque like the cheque number, payee name, date issued, etc.

Check the Details Entered, Select the Reason, and Submit the Request.

Before you submit your request to the bank you have to check that all your entered details are correct. Choose the reason why you are stopping the payment and submit the request to the bank.