If we have a credit card that is issued by any bank we try to use it more and more for our daily transactions.
When we do it we are making transactions with the help of our card. And this results in billed and unbilled transactions.
This article will tell you how you can view or check unbilled transactions of SBI Card. But before that, we should understand the meaning of an unbilled transaction.
What is an Unbilled Transaction?
It is a transaction that you have done using your credit card which is not yet billed by your credit card issuer.
For example, consider that your statement date is on the 2nd of every month. And you have done a transaction of Rs. 1,000 on the 4th of any month.
This transaction will be an unbilled transaction as you have done the transaction after your bill has been generated.
This transaction will be considered as a billed transaction once your new statement is generated on the 2nd of the next month.
Steps to Check Unbilled Transaction of SBI Card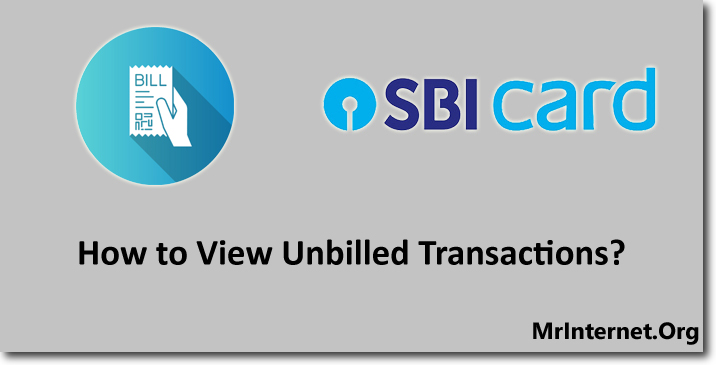 Time needed: 5 minutes
You can view or check the details of your SBI Card's unbilled transactions online. This can be done using the official website of the SBI Card.
Visit the official website of SBI Card.

The first thing you have to do is visit the official website of the SBI Card.

Click on the Login button.

To view any details of your card you will have to login into your account. So now click on the blue-colored "Login" button.

Log in to your Credit Card Account.

There are different ways to login into your credit card account. You can log in using your card details, password, and PIN. Choose the method you wish to use and login into your account.

Select your Credit Card from the Drop-down Menu

If you have multiple cards with the bank. Then you will have to select the card using the drop-down menu.

Click on My Accounts.

After selecting the card, click on the "My Accounts" option. This option can be found on the left-hand side of the interface.

Click on Unbilled Transactions to View the Details.

This is the last step where you have to click on "Unbilled Transactions". All the unbilled transactions of your selected SBI credit card will be displayed to you.
Types of Unbilled Transactions
There are two types of unbilled transactions and they are settled and unsettled transactions.
Unsettled Transactions: These are the transactions that you have made using your credit card. But the money has not been settled yet between your credit card company and the merchant.
Settled Transactions: These are the transactions that have been settled. This means the money has been moved from the credit card company to the merchant.