If you are issuing a high-value cheque. Then you should submit the details of the cheque online. Today with this article we will learn how you can submit SBI Cheque Details for Positive Pay online.
This is actually a system that helps the banks to make sure there are no cheque frauds. And it is not hard to use as it seems.
You can use SBI positive pay system online with the help of the internet banking portal of the bank. (SBI Online)
Before you can submit the details online using the internet banking portal. You should have your username and the login password with you.
In case if you have not registered for the internet banking services of the bank. Then you can register using the "New User" option on the official website of SBI.
What Details of the Cheque are Require for Positive Pay?
You should have the below-mentioned details of the cheque ready with you.
Cheque number.
Instrument type.
Amount of the cheque.
Payee or Beneficiary Name.
And the date of issue of the cheque.
Steps to Submit SBI Cheque Details for Positive Pay Online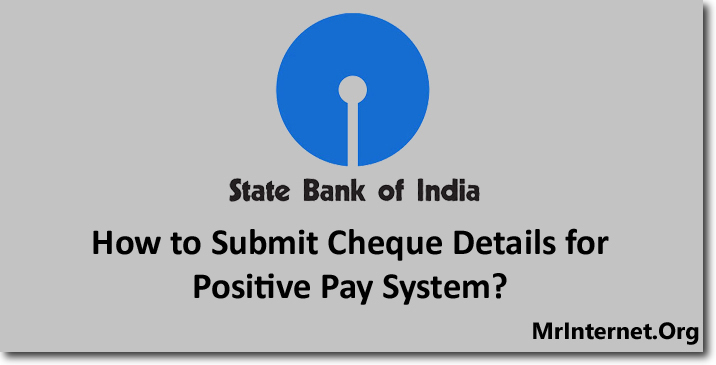 Time needed: 5 minutes.
You can access the Positive Pay system for your SBI online in the "Cheque Book Services" section. The details of the cheque can be submitted in less than 5 minutes.
Visit the official website of the State Bank of India.

First of all, open your internet browser and visit or open the official website of the State Bank of India.

Login to your Internet Banking Account.

Login in to your account by entering your username and the login password.

Click on Request & Enquiries.

Once you have logged in to your account you have to click on "Request & Enquiries". You can find this option in the top menu bar of the internet banking interface.

Select Cheque Book Services.

Select "Cheque Book Services" from the Request & Enquiries section of the internet banking.

Click on Positive Pay System.

There are 3 options in the Cheque Book Services section of SBI internet banking. And they are Cheque Book Request, Stop Cheque Payment, and Positive Pay System. You have to select "Positive Pay System" by clicking on it.

Select your Bank Account Number.

Now you have to select your bank account number or the nickname corresponding to the cheque you have issued.

Enter the Cheque Number and Select Instrument Type.

Enter your cheque number and then select the type of instrument your cheque is.

Enter Amount and Payee Name.

Now enter the monetary value of the cheque and the name of the person to whom you have issued the cheque.

Enter the Cheque Date and Click on the Submit button.

Enter the date you have mentioned on the cheque and at last click on the "Submit" button.
Make sure you enter the correct details in the positive pay system. For more information, you can call customer care on 1800 425 3800.